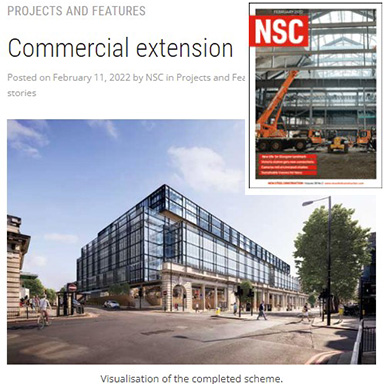 The HUB Victoria, Buckingham Palace Road, is featured in NSC's February issue.
The double-page spread emphasises the environmental benefits of façade retention and "constructing a new building within, as well as strengthening, enlarging and extending older structures," especially with regards to steel construction.
There is also mention of the logistical challenges this project is having to overcome, including its location above Victoria Station railway lines and alongside a "busy central London thoroughfare." Further challenges include site occupation and working with mid-1980s foundations and raft which were "designed and built at a time when there may not have been a specific design intent for the buildings above" according to Pedro Lopes, our Senior Engineer on the project. However, the existing build will enjoy a number of improvements, including an additional 9,290m2 of office space, new ground-floor retail units, a dedicated entrance lobby, lift and improvements to the 'public realm'.
Peter Dann were involved in the design of the structure, ranging from the ground-floor extension to the new massing on top of the existing building.
To read the full article and learn more about this unique development, visit Commercial extension – newsteelconstruction.com