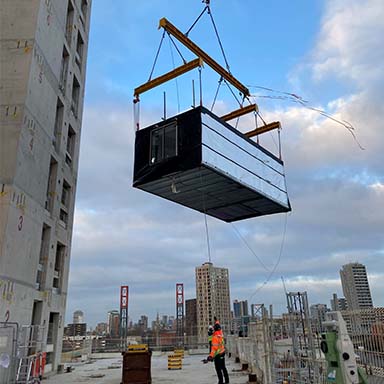 The first Caledonian modular units have now been craned into position at Wood Wharf and we look forward to seeing the rest of the modules installed.
Peter Dann have been involved in the project since 2019 and designed the reinforced concrete podium structure and stability cores for this 21-storey apartment building. The concrete structure was finished at the end of 2021 and once the 17 storeys of modules are in place, an in-situ steel frame (also designed by Peter Dann) will create a restaurant space at the top of the structure.
This is Canary Wharf's first modular project and it has involved several challenging aspects, including reclamation of land from Blackwall Basin and restrictions on the geometry – particularly at lower levels – due to the constraints of the site footprint.