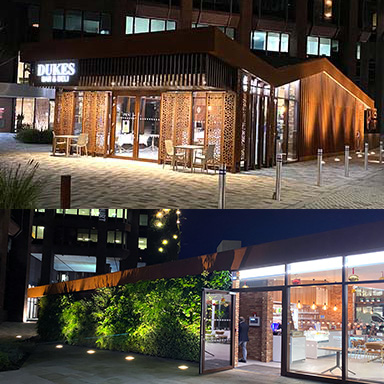 Dukes Bar & Deli is a smart new kiosk/restaurant recently completed in Dukes Court, Woking.
A steel-framed structure was adopted to enable the complex roof profile to the accommodation. The roof members were required to cantilever in several directions to achieve the desired overhanging roof detail. Steel moment frames were used to provide stability as the extensive glazed perimeter did not allow for braced bays in all directions.
In addition to the new building, the proposal for the external space included a living wall to an existing office building. The kiosk also features a living wall.
Did you know…? The modern green wall with integrated hydroponics was invented by Stanley Hart-White in the 30s. The American was Professor of Landscape Architecture at the University of Illinois.